Taken off Soccernet on Nov 12, 1998
By Jeremy Butler

Evans bids emotional farewell to Liverpool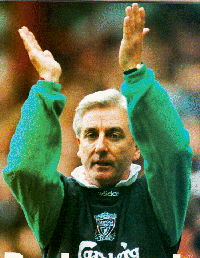 LIVERPOOL, England, Nov 12 (Reuters) - Roy Evans stepped down as co-manager of Liverpool on Thursday, leaving Frenchman Gerard Houllier in sole charge of the English premier league side.
He struggled to hold back the tears at a news conference as he gave his reasons for quitting the club he joined in 1965.
Evans, who has spent the first four months of the season in joint control of the team with Houllier after four years in the hot seat, admitted the partnership was starting to affect the players. He decided to sacrifice himself for the good of the club he loves.
Assistant manager Doug Livermore joins Evans in quitting Anfield. Former Liverpool central defender Phil Thompson will be Houllier's deputy.
The Frenchman now becomes the fourth overseas coach in the premier league, joining Ruud Gullit, Arsene Wenger and Gianluca Vialli in managerial positions at high profile clubs.
As he sat alongside his long-term friend and Liverpool chairman David Moores at the news conference, Evans carefully picked out his words in a bid not to break down in front of the cameras.
"This place has been everything to me and because this club is so dear to me I want it to be back at number one," he said. "Something had to be done and the only thing that concerns me is what's best for Liverpool. It's a sad day for me."
Evans denied rumours that he was unable to work with Houllier depite the fact that their partnership had not worked.
"The results haven't been as we would have liked. But this is nothing to do with personalities. We tried hard to make it work but we felt it was not right for the players."
Moores offered Evans another job at the club but he turned it down to spare Houllier any additional pressure as he battles to turn Liverpool back into title contenders.
"It would be easy to stay around and be a ghost on the wall but if we are going to give Gerard a chance I have to walk away," said Evans. "To have people in the background who have been in the job for a long time is not fair to him."
Houllier was quick to pay tribute to the man who shared the responsibilities with him but took all the brickbats as Liverpool's good early season form disappeared.
"He's a wonderful guy," said Houllier. ``His commitment and his integrity and concern for the club was tremendous.
"But after a few months we realised it was difficult to work like this. There was no problem between us but it was difficult for the players in the long term."
He said the side needed to show "more effort, more concentration and more commitment" if they were to succeed.
Thompson, who worked as a coach at Anfield until 1992, said he wanted to add a little bit of steel and a bit more passion to the team.
Evans made only 11 appearances for Liverpool, giving up playing in 1974 to take over as reserve team coach. He became first team manager in 1994.
Liverpool won their only trophy under him when they beat Bolton in the 1995 League Cup final.
But Evans defended his record by saying: "We have finished third, third, fourth and fourth in the league and behind Alex Ferguson I have been the best manager in terms of league position in the country. But that isn't enough for this club."
Evans's departure signals the end of the famous Boot Room dynasty at Anfield, which began under Bill Shankly in 1959 and produced later Liverpool managers Bob Paisley, Joe Fagan and Evans.