Taken off Sky Sports on June 3, 1999
Author unknown

A day no fan should forget
No-one can forget the events of April 15, 1989 - especially the people who were there. We spoke to those whose lives were directly touched by the tragedy of Hillsborough...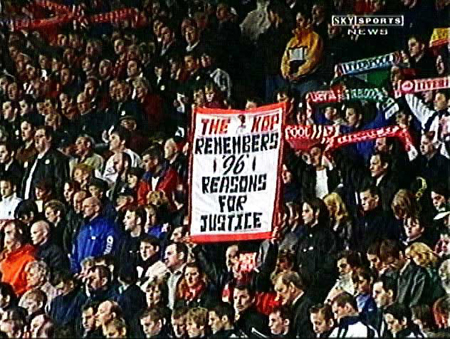 April 15, 1989, is a day that Phil Hammond wishes more than anything else was just another day. But it wasn't. It was the day his son Philip went to a football match in Sheffield.
Hammond recalled: "I was sitting at home watching the snooker on TV, and they broke off to go to the story and as soon as it came up I knew something was wrong. I phoned my wife, told her to come home and said there's trouble at Hillsborough.
"As she was driving home she heard on her car radio that there was so many dead. At each traffic light it would get worse: 15 dead, then 20 dead. She felt physically sick. The day was awful."
The Hammonds - like so many in Merseyside - waited anxiously. Phil's brother went to Hillsborough that night to see if the 14-year-old was still alive. "During the night we had an instinct, a feeling that he was dead. Brian phoned us on his way up to Sheffield, phoning at every service station on the way. But then he stopped.
"I said to the wife that he's bringing him home, because Brian took Phil's coat with him - he didn't have his coat on when he left. And that he was bringing him home fast, and was not going to stop. But we just had this gut feeling, and then I saw the policeman and I just said: 'Don't tell me he's dead.'"
Half an hour before kick-off that afternoon the congestion outside the Leppings Lane end was a mess. Rogan Taylor said: "We went through a mangle to get in. In fact, myself and Peter Garrett, who was a policeman from Liverpool, were screaming at the police. Eventually we got inside and he said, 'what the hell is going on out there?'
South Yorkshire Police took the fatal decision to open the gates and allow all the fans straight in - and onto the middle section of terracing. The crush meant fans were lifted off their feet.
Chris Moneypenny, a survivor, said: "I landed on my tiptoes and had a very loose foothold and I knew from then on that I was fighting for my life, as everyone else in that particular area was doing. The horrific thing for me was that when I moved my foot, there was a body of someone that was either dead or dying."
Journalist Chris Shaw was also at the scene. His memory? "Possibly the worst image of all was seeing a young boy, possibly about 14, lying dead on the Leppings Lane terrace. The terrible noise of the crowd and the wail of the ambulances was bad enough, but a stark scene like that stops you in your tracks."
The game of football went on for six minutes before it was halted - some assumed it was hooliganism, particularly after Heysel. But others, like Steve McMahon, knew instantly: "It was a neighbour of mine in Herewood where I used to live that ran on the pitch when the referee blew the whistle after six minutes, and said: 'There are serious problems, everyone's getting crushed down behind the goal.' And I knew then that something was seriously wrong."
Referee Lewis confirmed: "We were pulled off by a police inspector tapping me on the shoulder at six minutes past three, saying there's some problems and of course then it all unfolded after that."
Peter Beardsley was playing that day: "I felt sad that we couldn't help them when we were in the dressing-room. People like Stevie Nicol, who had remembered Heysel and Alan Hansen, they wanted to get out there and physically help them. In fact we all did.
"I hit the bar just before the disaster happened and it's easy to say now in hindsight, but I'm glad I missed because had the goal gone in, there could have been a lot more deaths."
News would soon reach the Liverpool dressing-room that fans had died. John Aldridge remembered. "There were people outside the dressing-room who walked past saying: 'There are people dead out there.' We didn't know."
Added McMahon: "It kept rising and rising and rising - the fatalities." The final death toll would be 96.
Nigel Clough was playing for Forest that day: "A couple of people spilled on the pitch but we knew it wasn't crowd trouble; we thought it was just too crowded and we'd let the police sort it out.
"We went off and sat in the dressing room for an hour-and-a-half with no knowledge of what was going on. The referee popped his head in every 20 minutes or so to say we'd hang on a bit - he wasn't aware of the tragedy at that stage.
"When it got to one-and-a-half hours we thought there was very little chance of starting again but in terms of the extent, we didn't find out until about 5.30pm.
"You can't contemplate it. If somebody had said one person had died, you would have thought it was absolutely horrible but as the numbers went up it got worse.
"All our thoughts were with the Liverpool fans who had lost family and friends. I think it hit home that it could have been at the Forest end and it could have been our fans.
"It was a difficult situation for us at Forest because I think the whole country wanted Liverpool to win the rematch but in the circumstances the game was almost secondary. I remember being so pleased that the game was over. FA Cup semi-final day is such a special day and it didn't feel like that.
"Normally the sets of supporters involved are extremely excited about it because they might be going to Wembley but there wasn't that sense of feeling."
In the days that followed, fans united in sympathy knowing that it could have been them. Fences came down, and the FA Cup was nearly abandoned that season.
Of the aftermath, John Aldridge said: "I couldn't come to terms with playing football at the time. It was irrelevant. I just couldn't motivate myself. I was too busy... I was going to funerals nearly every day, of fathers, brothers, and sisters.
"I now say my prayers every night - and they're always in my prayers. You speak about your private little one-to-one with God and I always give the people who died at Hillsborough a mention in my prayers every night."
Liverpool's staff rallied round the best they could - through it all, manager Kenny Dalglish inspired everyone around him to support the bereaved, often for up to 12 hours a day. Dalglish's successor, Roy Evans, remembered: "It had an effect on the club. It certainly took an awful lot out of an awful lot of people.
"I used to go (to help the bereaved) every day, and it was very tiring. Once or twice during that time, Kenny pulled us all out and said, 'Come on, we all need a break'. And we all went into his office and had a cup of tea or a beer - just to relieve the pressure because it was a very traumatic time for everybody."
McMahon agreed: "It takes a tragedy of that proportion to bring it home to people, and it's sad that it has to come out that way for people to realise that something needs to be done."
And Beardsley paid tribute to the manager that was later to cite trauma as a reason for his surprise resignation: "Kenny must have gone to more than 70 per cent of the funerals - and the way he took people in and looked after them at Anfield was incredible. We had a lot of open days, and had the families round, and he and Marina were especially unbelievable."
There came a time though when the flowers had to be cleared and Liverpool went back to work.
Ten years on, though, those that had suffered most are still seeking justice and an apology. "I hope one day I can come home, spend time with my family and grieve for the 14-year-old boy I lost," said Phil Hammond.
"I think it could have been averted, but it wasn't on the day. Hillsborough could have been stopped. Once we get justice, maybe the truth will come out.
"An apology would put it to bed for most people, then we can start grieving. I don't think I've started grieving, I don't know what grieving is. You can't grieve over something you don't know how you lost. It's just been fighting for ten years - that's all I've been doing."