Taken off The Daily Post on Dec 4, 1999
By Len Capeling
Paisley: Manager of the Millennium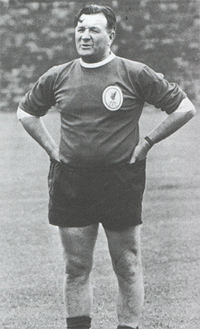 Len Capeling on a book that looks back at the story of England's most successful club manager...
Mark Lawrenson is unlikely to forget his first encounter with Bob Paisley.
Signed from Brighton late one Friday night and deposited at the Atlantic Tower hotel for safekeeping, Mark was so in awe of the great man that next morning he got up two hours earlier than he needed to.
Paisley had arranged to collect his new £900,000 capture and chauffeur him for his medical, and Lawrenson didn't dare risk being late.
"I was nervous as a kitten," the defender recalls in John Keith's new biography of the legendary manager. "I had on my best suit, shirt and tie, my best bib and tucker. I went down to reception and the doorman spotted me and said 'Mr Paisley is waiting for you in his car outside'.
"When I got in the car I saw that Bob was wearing slippers and a cardigan. I couldn't believe it. That was my first meeting with Bob Paisley and I knew I'd come to the right place.
"They'd just won the European Cup and there was this fellow, who everyone in football thought was an absolute god, driving me to the ground in his slippers and cardigan! I thought 'you'll do for me!'"
Lawrenson's words, a mixture of reverence, rapture and downright astonishment, are echoed throughout a book that attempts to unlock the mystery of how a diffident, unassuming Geordie without a shred of ego transformed himself into a modern-day soccer genius who re-wrote the pages of footballing history.
Perhaps the answer to the enigma lies in the word genius. Bob's slippers and cardigan, that flat cap even, might lead you into supposing that you'd bumped into the wrong man. That the real Bob Paisley, power-dressed and peering over executive specs, was locked in a command bunker somewhere, drawing up Don Revie-sized dossiers on his next push for glory.
The wonder of Paisley, expressed by so many of players is that he seemed to say so much by saying so little.
Expressed by one of his most loyal lieutenants, Joe Fagan, Bob's soccer credo amounted to this: Keep it simple, don't complicate things. He loathed all soccerspeak; he wouldn't have recognised a Christmas-tree formation if it had toppled on to him. "What does getting round the back mean?" he would ask. "We're not talking about burglars are we?"
Of course, Bob forever claimed there was no secret to his success, which of course only added to the mythology. Secret? There must be.
For Kenny Dalglish, bought by the Paisley to replace the allegedly irreplaceable Kevin Keegan, Bob's brilliance lay in the treasure-house of information he carried in his head.
Says Kenny: "Sure, he was unassuming. But underneath it all he had a huge bank of football knowledge and intelligence.
"His greatest asset, in my opinion, was his ability to make the right decisions. Another great strength was that having been player, trainer, coach, physio assistant manager to Bill Shankly, manager and director, he knew something about everything.
"He could look at you and say, you did this wrong, you did that wrong. He would look at an opposition team and spot individual flaws in it. He very, very seldom made bad decisions.
"People said that Bob, with his Durham accent, was difficult to understand. As a Glaswegian, they said the same about me. The truth was, it wasn't difficult to understand Bob's words, but rather what he was trying to say. But if you listened you could work it out. And most of the things he said about football were very intelligent. He was brilliant.
"Overall, he was just a magnificent person, invaluable to Liverpool Football Club and a marvellous servant for them."
Alan Hansen, one of Paisley's most inspired buys, reckons: "Bob pinpointed strengths and weaknesses better than any manager I've ever played for or ever met. He wasn't great with words but when he did say something, you always took notice because ninety-nine times out of a hundred he was spot-on.
"He had this line about the first two yards at the top level being in your head. When he first said it to me I thought it was rubbish. But the more I played the game, the more I realised it was so true."
Perhaps Bob's greatest gift, was, as Mark Lawrenson says, in putting the his teams together. Look at the people he bought: Neal, McDermott, Dalglish, Souness, Johnston, Rush, Hansen, Nicol. With players like that you didn't need to be a great tactician! He simply went out and found the players to fit the jigsaw.
The proof that Bob Paisley seldom got things wrong - even square pegs, in Lawrenson's words, were trimmed to fit round holes - lies in his truly remarkable achievements, first as the good right-hand of Shankly and then going solo.
That's where John Keith scores. Besides writing a wonderfully evocative book that takes Bob from his proud but humble beginnings in a North East pit town of Hetton-le-Hole, through the war years to a relationship with Liverpool that would last for half a century, he has not neglected to provide a truly mind-boggling series of facts and figures.
Every one of Bob's many accomplishment is here, and even now they seem unbelievable. Just as it seems unbelievable that when Bob took over at Anfield he was already 55.
Nineteen trophies came in just nine seasons, including three European Cups, six league championships.
When nowadays we're asked to walk on air when Liverpool go seven games without defeat, consider this: during the decade between January 1970 and December 1980, taking in the Shankly and Paisley eras, Liverpool lost just nine games out of 210 in front of their own Anfield fans: Goals For 416, Against 129.
Bob's full glorious managerial record reads: Played 534, Won 308, Drawn 130, Lost 96, Goals For 954, Against 404.
Bob once said, 'Nobody has the right to win anything they haven't earned'. Bob earned everything, of course, but the most precious thing he earned was the undying respect of those who saw his greatness on those magical European nights when a very special man reigned supreme. He got an OBE, and deserved a knighthood.
Above all, he deserved a better end to his incredible life. Rest in peace, Bob.
Bob Paisley: Manager of the Millennium, by John Keith, is published by Robson Books at £17.95 and is available from all good bookshops.