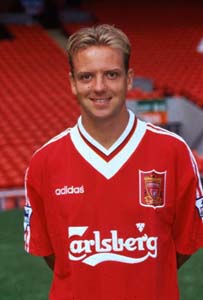 Taken off The Sunday People on August 29, 1999
By Author unknown
Jones: I broke down in tears whey said "Sorry, you'll never play again"
Rob Jones hobbled to his car on Friday night and headed for the M1.
For the man who was destined for a glittering international career, it was the road to nowhere. Out of the game ... at 27.
It started against Ryan Giggs in front of a capacity Old Trafford crowd with a TV audience of millions.
It ended in front of a handful of spectators on a windswept park in Essex against a bunch of part-timers.
"It's hard to take," admits Jones. "When I got into that car for the drive home, it hit me.
"Football is the only thing I have ever known. Football people are the only people I've been around. I'm 27, I should be in my prime. Instead, I know that I will never kick a ball again.
"I know I'll never experience that unique atmosphere of the training ground and the dressing-room again.
"You try to put a brave face on it but when you are on your own - or with your family - it's hard to hold back the tears."
Jones could not hold back the tears when he lost his battle with cruel fate earlier this month.
Released by Liverpool, Jones was determined to prove his ability - and his fitness - at West Ham. Harry Redknapp had a contract waiting in his drawer.
Jones had worked every day in summer to recover from a third operation on his injured knee.
"I was feeling positive," says Jones. "I had trained on my own for the whole of the close season and had my mind set on making a go of it at West Ham.
"I wanted to show Liverpool that they were wrong to release me and I wanted to show that I could get over this problem.
"I played half a game in the InterToto Cup and felt okay. There was some irritation - but I thought that was natural. But I needed to get a full game under my belt so I played in a friendly against Grays. After the game, my knee had swollen to the size of a football. Deep down, I knew then that it could be the end. It was a sickening feeling.
"I had a scan the next day and sent the results to experts all over the country. The response wasn't good news. My surgeon said he could operate again but he also said that we should concentrate on making sure I could just lead a normal life in the future. That hit home.
"I knew then and I went home to my wife and two young daughters. I told Sue, my wife, and we just hugged and had a long, long cry. Hey, I don't want anyone to feel sorry for me. I played for one of the best clubs in the world. I had nearly eight years playing alonside great players for one of the most famous teams ever.
"I've had some memorable times in a job that most people would love to do and I'm more financially secure than most people of my age. It's just the wrench of giving up the game - and a job - that you love."
Jones does not want sympathy ... that is why it's tough to deal with the scores of phone calls from friends and former team-mates.
And he tries desperately not to feel sorry for himself. But when reflecting on a career dogged by bad luck, it's difficult to fend off that 'why me?' feeling.
Plucked from Crewe by Graeme Souness, Jones - then only 19 - made his top flight bow against Manchester United ... just 48 hours after arriving at Anfield.
His accomplished display led Giggs to describe Jones as the toughest opponent he had faced.
Another outstanding debut was soon to follow ... for England against France.
In April 1992, Jones was looking forward to an FA Cup Final and a guaranteed place in Graham Taylor's squad for Euro '92. He recalls: "A few weeks before the FA Cup Final, I started feeling discomfort in my legs.
"I rested and played in the Final but I was in a lot of pain. I joined up with England and was sent for a scan. It showed I had shin splints. It meant I was out of the European Championships.
"It was a blow but - at that age - it was not the end of the world. You are young and you think your time will come again."
After an op, Jones fought back and reclaimed his place in the England set-up. He was still beset by minor injuries that hampered his international career but his club record was good.
He played 132 games in four seasons and had recaptured the sparkling form of his early days at Liverpool.
But at the end of the 1995-96 campaign, Jones was suffering discomfort from his back.
"At first, we couldn't find a problem," he says. "But I was sent to a specialist and his scan showed that I had a fracture of my lower spine. That was scary but I knew that complete rest would cure it. The problem was that it meant I could do absolutely nothing for six months.
"A friend from Crewe, Neil Lennon, who's now with Leicester, had the same injury and he got over it so I wasn't that worried."
After recovering from the excruciating shin splints and the broken back, Jones was due a trouble-free run. But at the end of the 1997-98 season, his left knee flared up. The condition was diagnosed as a severely inflamed patella tendon - the tendon that attaches the muscle to the knee.
It is one of the few sports injuries that is virtually incurable. Jones says: "What happens is that the tendon becomes inflamed and rubs against the knee. It causes you great pain.
"There's not a lot you can do about it. Rest doesn't help and neither does running it into the ground. I had three operations and in one, they even took a section of my kneecap off to try to stop the rubbing effect."
By now, Liverpool boss Gerard Houllier had decided that Jones was not part of his extensive rebuilding plans.
"It was a football decision," admits Jones. "And it really fired me up. I was in the gym every day of the week.
"Harry Redknapp was great to me - if I could prove my fitness, I was hoping to be a big part of West Ham's future. In my short spell there, I found out what a great thing Harry has got going there."
Not being part of it hurts Jones. But, as he agonised over his future last weekend, Jones took time out to pick up the phone and congratulate close pal Steve McManaman on his debut for Real Madrid.
McManaman and Jones were on parallel lines for a long time. But there is no envy on Jones' part.
He says: "Steve has taken a lot of stick and I just wanted to show my support for him.''
Sad? Yes. Bitter? No.