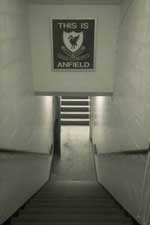 "A lot of football success is in the mind.
You must believe you are the best
and then make sure that you are.
In my time at Liverpool we always said
we had the best two teams on Merseyside, Liverpool and Liverpool Reserves"
Bill Shankly
The only thing I fear is missing an open goal in front of the Kop.
I would die if that were to happen. When they start singing 'You'll Never Walk Alone' my eyes start to water. There have been times when I've actually been crying while I've been playing". "The only thing I fear is missing an open goal in front of the Kop. I would die if that were to happen. When they start singing 'You'll Never Walk Alone' my eyes start to water. There have been times when I've actually been crying while I've been playing".
Kevin Keegan
"If you're in the penalty area and
don't know what to do with the ball,
put it in the net and we'll discuss the options later."
Bob Paisley's words to Ian Rush
when the latter failed to settle in after the first few games.
Since these words, Rush never looked back.
"Some people believe football is a matter of life and death,
I am very disappointed with that attitude.
I can assure you it is much, much more important than that."
Bill Shankly
"We don't have any splits here. The players' country is
Liverpool Football Club and their language is football."
Gerard Houllier
rebutting media's criticism that
the club has bought too many foreigners.