Kevin Keegan

Reds Highlights

Born on 14 February, 1951 at Armthorpe, England
Signed for Liverpool from Scunthrope for £35,000 in 1971.
Scored 100 goals in 321 Liverpool appearances.
Won 1 European Cup, 2 UEFA Cups, 1 FA Cup and 3 league titles for the Reds
Despite having played only a handful of games for Scunthorpe, Bill Shankly did not hesitate for a moment to sign Kevin Keegan for £35,000 in 1971. The signing is still regarded by many Anfield faithfuls as the finest bargain in the history of Liverpool FC.
In his 6 years in Liverpool, he played under 2 great managers, Shankly and Paisley and forged a fearsome striking partnership with John Toshack. Keegan was signed just weeks before Liverpool's FA Cup final against Arsenal. He was at Wembley to witness his future teammates losing to Arsenal. There, he was distressed and trooped to console his future teammates. Shankly thought, "Here's a character and he's not even playing"
Though not a typical tall English forward, he could leaped high and knock down the ball to his partner, Toshack. Packed with tremendous pace and tough tackling, he was probably the finest English striker then. Not surprisingly, he was called up for his England outing against Wales in 1972. That was the first of his 63 England cups.
After 5 seasons, Keegan decided that it was time to exhibit his skills elsewhere. He promised the management to play on for another season (1976/77) before moving on to the Continent.
The decision was greeted with public outcry. Many felt it was a betrayal of loyalty by Kevin. No Liverpool player had left the club at the prime of his career. However, he was determined to leave Liverpool, but not without more honours. In his last season, his sheer delightful skill brought Liverpool's tenth league title and the European Cup to Anfield. He played the last game of his Liverpool career against Borussia Moenchengladbach in the European Cup final before his £500,000 move to Hamburg. Many felt that Keegan's leaving would leave a void in the attack. But fortunately, another legend Kenny Daglish signed on after Keegan left and fitted in almost instantly. Keegan's departure was not sorely missed.
Keegan won the Bundesliga for Hamburg and led them to one European Cup final before coming back to England to play for Southampton and Newcastle. His retirement came in 1984.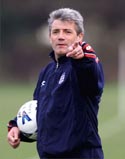 Keegan returned to football in 1992 as manager of Newcastle, then threathening with relegation in Division 1. Always a favourite amongst his players, he brought Newcastle from near oblivion to a respectable runner-up spot in the 1995/96 season, just behind Manchester United. Almost as shocking as his announcement to leave Liverpool, Keegan resigned from management of Newcastle in January 1997.
His next return to football was quick. He took up the post of chief operating office second division Fulham before taking sole charge of the team just three days before first leg of 1998 promotion play-offs.
After the sacking of Glenn Hoddle, Keegan was a favourite to take over the rein of the England coach. He was first appointed as caretaker-manager of England team. The job of handling the national team was simply too good to resist and he gladly took up the post of coach fulltime in 1999.
Despite a relatively short career in Liverpool, Kevin Keegan is no doubt one of the greatest players to ever don the famous red shirt of Liverpool.
Keegan's honours
3 League Titles (73,76,77)
1 European Cup (77)
2 UEFA Cups (73,76)
2 FA Cups (74)
63 caps for England
© 1999 The Mersey Reds