The greatest Liverpool links
---
The number of Reds sites available on the internet from all over the globe only demostrate the massive support this great club garner. Despite of the differences and similarities of these pages, all the individual owners of the sites share one thing in common - the passion they have for the club. There are numerous of sites dedicated to Liverpool FC but the sites here are essentially the best I have seen around.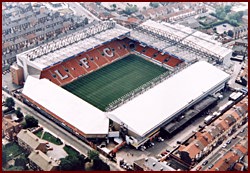 The Mighty Reds Page
Simply the best Liverpool site any Reds fan can find. Most updated news.

Soccernet Liverpool Page
The fastest site in giving you results, tables and other league scores



Keith Szlamp's Scouser Site
Anything you want to know about the Liverpool can be found here. Plenty of mesmeric pictures of city famed for bringing to the world the best rock and roll band, Beatles and best football club (and we are not talking about Everton).

Team Talk Page
Up to date news and gossips of the club.

The L Files
A superb site run by a Reds fan based in Australia.

LFC-Online
An up-to-date site by Gary Purvis.

Chris McMullan's Pass and Move Page
Profiles on current players updated. Hear the Kop in full roar in this page! Interesting quotes from Shanks to Evans.

Thor Zakariassen's Page
An unique page done by Thor, an Norwegian teacher who has been a fan since 1959 (Since Shankly's days).

F.A. Carling Liverpool pages
- most up to-date reports, fixtures and news here.

Derek Birchall's LFC page
One of the few Merseyside-based Liverpool FC pages. Updated news and gossips daily.

Sky Sports Liverpool Page



Fredrik Olsson's Liverpool Pages
A Norwegian Red supporter's page... nice layout and design.

RAM's Liverpool Football Club Page
Another Norwegian set of pages.

LFC Pics
A site which is only dedicated to Liverpool FC pictures.
Special Tributes

Unofficial Robbie Fowler Page
A Swedish fan's tribute to Robbie Fowler - check out movie clips on Fowler's goals

Odesa's Michael Owen Page
An excellent tribute to the most exciting prospect of Merseyside now.

No. 11 Jamie Redknapp
Tribute to Jamie Redknapp.

Tribute to Bill Shankly
A Must-see for all Shankly's fans. Traces the entire managerial career of the man. Almost features the great Liverpool sides he has managed.
---
Send a mail to me if you want your red link to be placed here.