Bill Shankly

Reds Highlights

Born on 2 September 1913 at Glenbuck in Lanarkshire
Arrived at Anfield in December 1959.
Led Liverpool to one Div 2 title, 3 league championships, 2 FA Cups and 1 UEFA Cup.
Shankly is arguably the most influential man in the history of Liverpool Football Club. Despite being as a strong winghalf, his playing career was interrupted by the war. In spite of the war, he was capped by Scotland 12 times.
It was his managerial career that made him a legend. He started his managerial career at Carlise, his former club in 1949. The next few years saw him moving on to Grimby Town, Workington Town and Huddersfield Town. At Huddesfield, he was an assistant to Andy Beattie before assuming the manager post after Huddersfield was relegated. He never won anything prior to his career in Liverpool but his reputation of being an effective manager brought the Liverpool board into attention of this Scotsman.
At his arrival, Liverpool FC was in a dismal state. The club, despite having a rich tradition, was floundering in the old Division 2. It was clear that massive rebuilding had to start. Upon accepting the job, he made it clear to the board that he would have the final say in the team selection, a practice unheard of in the Liverpool establishment then.
Almost all the players he inherited was sold off, except for genius Billy Liddell. Over the 9 years in charge, he brought on many players who would have gone on to be legends like himself. Ron Yeats, Ian St John, Kevin Keegan, Emlyn Hughes, Roger Hunt and Tommy Smith were amongst the many distinguished names he nurtured who had graced the pitch of Anfield.
Shankly's first success came in 1962, the Div 2 title and hence finally bringing the Reds back to big time football. Shanks, as he was affectionately known, implemented many new practices which still remains in the club to this very day. One significant move he had made was to erect the famous "THIS IS ANFIELD" sign at the end of the tunnel leading to the pitch. This, was he said, to remind the Reds of who they are playing for, and to warn the opponents of who they are playing against. He also introduced the passing style which is now a trademark of the Liverpool side. His instruction to his players was simple - pass to a fellow red shirt. Team spirit and determination were key values he imparted to all his players.
Shanks was famous for making bold interesting quotes, never shy to speak his mind. Most famous one of all has got to be the "Football is not matter of life and death, its much more important than that" quote.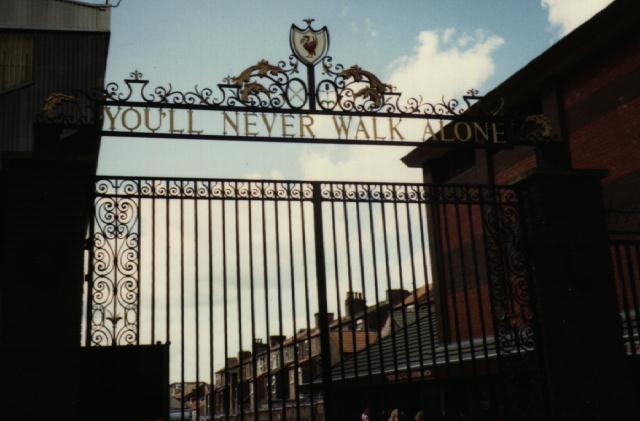 The Shankly Gates
Erected in memory of the great man himself
Football was his life. He never really talked alot about other things but football. His football philosophy stemmed from his belief in keeping the game simple. A motivator and a father-like figure, he made the players feel proud donning the famous red shirt. He preached loyalty and expected the same from his friends. During his tenure and beyond, the famous bootroom staff would prove to be a close-knitted group, working and looking out for each other - a vital catalyst to 3 decades of success.
Coming from a humble background, he understood the working class of Liverpool. Despite his success at Anfield, he had always led a simple lifestyle. His genial warmth endeared the Anfield crowd. So revered that once, two Kopites kneeled down before the man and kissed his shoes. No other manager has ever enjoyed such hero-worship.
On July 12 1974, during a press conference to announce the signing of Ray Kennedy, Shankly shockingly announced his resignation. Many thought it might just be another of the jokes he was famous for, but this time it was for real. He cited fatigue as his reason for his decision. After ending the season with the FA Cup, he knew it would be a fitting time to take his bow. His only regret though was not to win the coveted European Cup.
After his resignation, he was never offered any post at Anfield and in his later years, he revealed his bitterness toward the club which he has served so well. When told kindly by his successor Paisley that his appearances during trainings were unsettling at times, he took the words harshly and slowly distanced himself with the club.
Shankly passed away on 29 September 1981, just a few days after a heart attack. The city's flags were flown at half mast and ships passing Mersey sounded their horns. You'll Never Walk Alone was played at his funeral service and the Shankly Gates was erected in his memory.
Shanks was held in high regards by his players. Emlyn Hughes once said, "Everything I achieved in football, I owed it to Shankly". Many players who had the honour of playing for Shanks would have felt the same.
Over the fifteen years at the helm, he brought one Div 2 title, 3 league championships, 2 FA Cups and 1 UEFA Cup to Anfield. Although his achievement may not rank as high as his successor Bob Paisley, he is still revered by the Anfield faithfuls and to many, the man who laid the foundation to a great club which is now the most successful British club in history.
---
Related sites
http://www.shankly.com
© 1999 The Mersey Reds