Bob Paisley

Reds Highlights

Signed for Liverpool from Bishop Auckland in 1939.
Scored 13 goals in 278 Liverpool appearances.
Won one league title as a player
Won 3 European Cups, 1 UEFA Cup, 6 league titles and 3 League Cups as the gaffer.
Paisley began his first session with his players as the manager by telling them that he never really wanted the job. He became Liverpool's number two since Shankly's arrival in 1959. For 15 years, he had a close working relationship with Shankly which made the transition smooth. When asked by the board if he would prefer choosing a staff from the "bootroom" to succeed him, Shankly nodded. Paisley was the most natural choice.
Paisley came to Liverpool after helping Bishop Auckland win the FA Amateur Cup in 1939. Like many of his peers, his playing career was hampered by the war. He served in the army during the war and by the time peace returned, the best part of his playing career was almost over. He did, however featured in 33 games for the Reds to clinch the league title after the war in 1947.
A solid wing-half, he also scored a goal against Everton in the 1950 FA Cup semi-final. He was surprisingly left out of the team that lost the final. Ironically, the FA Cup is the only major trophy which he failed to win, as a player and as a manager.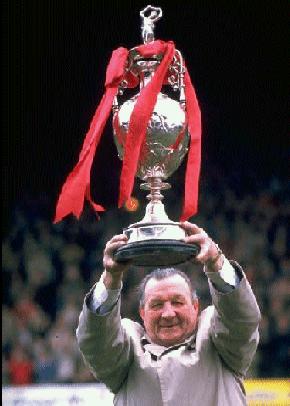 He ended his playing career in 1954, taking on the job on the training staff. By Shankly's arrival, he was a qualified physiotherapist. The close working relationship between him and Shanks proved to be instrumental in the subsequent taking over of full charge. Shanks had preached teamwork, passion and the hallmark "pass to a fellow Red shirt" play, Paisley was no different.
Phil Neal was a talent which no top club had signed. Paisley saw the gem in him and prised him away from Northampton Town for £60,000 - his first signing as manager. Soon enough, Neal became a permanent fixture on the Liverpool teamsheets for ten seasons. Uncle Bob had an eye for talent. Alan Hansen, Mark Lawrenson, Graeme Souness, Kenny Daglish and Bruce Grobbelaar, were just a few of his signings who had gone on to become Anfield legends.
Paisley also had belief in his players and was willing to prove any detractor wrong. Ray Kennedy, who arrived from Arsenal as a proven striker, found it difficult to adjust to the Reds' style of play. Paisley moved him to midfield and Kennedy flourished in the new role. The new found confidence eventually led Kennedy to 17 England caps and numerous honours with the Reds. It was not the only masterstroke Paisley pulled.
Ian Rush arrived from Chester and struggled to score in his first 9 games. Evidently, the crowd was getting impatient. Uncle Bob went to Rush and said, "You are supposed to be a striker - be more selfish". The rest is history... Rush eventually became Liverpool's highest marksman.
His first season as manager was a "disaster" by his standard. Liverpool finished second in the league, crushed out early in the cup competitions. But over the eight years, he was to win more honours than any manager ever did. He still is the most successful manager in British football and possibly Europe (Manchester United's Ferguson is not even close)
In the 1982/83 season, Paisley had decided that it would be his last. Having served Liverpool for 43 years as a player, physiotherapist, trainer and eventually manager, he was awarded a directorship after his retirement. In his last season, the Reds clinched the league championship and the League Cup (known as the Milk Cup then).
Graeme Souness, the captain, urged Paisley up the Wembley steps to receive the Milk Cup before the team. No manager has ever received such an accolade, but Paisley deserves this honour more than anybody else.
Over the nine years in charge, Uncle Bob brought 3 European Cups, 1 UEFA Cup, 6 league titles and 3 League Cups to Merseyside. He was named manager of the season 6 times and like Shankly, he was awarded the OBE.
He retired as director in 1992 and passed away in 1996. A set of gates will be erected in his memory. Bob Paisley, a dedicated servant to the club for over fifty years will always be regarded by many Anfield faithfuls as "Mr Liverpool".
© 1999 The Mersey Reds