Honey I think we've got something special here...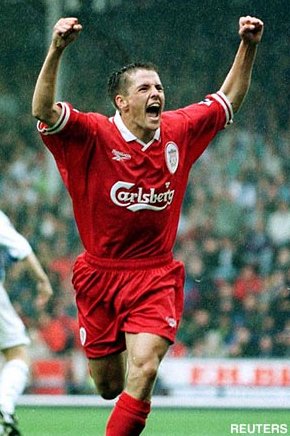 Michael Owen's rise to football super stardom has been nothing short of a phenomenon. He is perhaps the only spark of joy amongst Liverpool fans amidst all these trophyless years. Many fans would have realised that Owen could be the "next big thing" after seeing him slot in a goal against Wimbledon on his debut in the coolest of style.
When Terry Owen gave Owen junior his first football, he was quick to realise his boy was something special. After seeing Michael kick the ball around in their home, he turned to his wife and said : "Jeanette, I think we've got something special here."
The rise to fame
Owen burst into prominence in his first full season. Riedle was bought as a replacement for Collymore and would have been the expected choice of partner for another Anfield hotshot, Robbie Fowler. Who would have though his form would be so sizzling that it made it hard for Evans not to choose him over Riedle.
Months on, pressure mounts for Hoddle to include him in the England squad. Not only did Owen beat Duncan Edwards' record of being the youngest player to play for England this century. He also became the youngest English player to score. That did not stop. Young Owen went on to become the youngest player for England in the World Cup Finals and was easily England's best player in France 98. Millions witnessed his breath-taking pace when he scored what many to be considered the best goal in France 98. Even legend Pele was deeply impressed.
In just a few short months, Owen has become a football superstar, not just in England but all over the world. However it is not only his deadly pace and finishing which has made him football youngest mega-star. His off-pitch behaviour is also commended by many professionals. Evans calls him "a coach's dream".
The boy next door
Unlike numerous football stars who are constantly appears on the front pages of the tabloid. Owen projects a sqeaky clean image. No big ego, no tantrums off-pitch. He is more likely to spend time on golf,which he is really good at or on his sweetheart Louise Bonsall than to pick a fight in a local bar.
On Louise, "We met a couple of years ago. She's just a girl from the neighbourhood," said Owen, who has been very careful to keep her away from the media. Louise also said many girls in his school quite "fancied" him. But why are we surprised?
First hint of a rare gem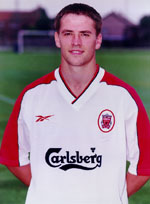 Owen's scoring prowess was perhaps first seen at a tender age of seven. He scored an amazing 34 goals in 24 starts in his first season playing for Mold Alexandra School Under-10s team.
"In one match, he scored nine goals. And that was in the first 20 minutes," said Howard Roberts, Owen's first coach, in top-selling British soccer magazine Four Four Two. "I didn't think it was fair to the other team so I made him go in goal for the rest of the game. And do you know what he did? He sat on the edge of the penalty box complaining that no one was giving him any back passes."
But it was his exploits at Deeside Primary that raised his profile significantly. In two seasons in Dee-side's Under-11s team, Owen scored 97 goals, smashing the schoolboy scoring record held by a certain Ian Rush by 20 goals.
The fighter
Owen senior gave Michael boxing lessons when he was six. This probably explains the temperament of young Owen, not that it is bad. Owen said he never walk onto a pitch fearing the opponents. Whilst many strikers his size would have shuddered at the thought of playing against tall, stout defenders, he simply thinks to himself, "Great, he is big,he can't turn!"
He was sent off twice last season, against Yugoslavia whilst playing for England Under-18s, for head-butting an opponent, and for a late lunge on Manchester United's Ronny Johnsen in a Premiership game. That did not come as a surprise to Owen's former coach at Clwyd Under-14s, Cledwyn Ashford. "That fact that Michael can lose his temper is no surprise to me. He's got a temper. If someone hits him, he'll retaliate."
Adjusting to stardom
In an interview this week with The Independent, a major British newspaper, Owen said that "we had been isolated in France so I didn't know how big I had become. It was only when I got back from Luton Airport to find hundreds of photographers outside my house in the early hours that it sunk in.
No longer can he walk down a supermarket without being greeted by everyone in the store. He is afterall the pride of England and Merseyside at the moment. His fan mail has increased from 100 a week to 10 sackfuls a day.
More recently Liverpool was seeking a insurance package of 30 million pounds for him. Besides the hefty price tag Liverpool slapped on him, Owen also has product endorsements with Umbro and Tissot watches worth more than £100,000 a year.
A deadly partnership?
Owen was thrusted into fame when another Anfield favourite, Robbie Fowler was out injured. Now that Fowler has returned, whether these two super strikers can gel and form a deadly partnership remains to be seen. We pray hard that they would. If they do, its hard to imagine any defence which can handle them.
---
"I just asked him and he said yes. I asked: 'Is it me pushing or you wanting?' He insisted he wanted to do it."
-- former Liverpool joint coach Roy Evans on the conversation that preceded Michael Owen's first penalty goal for the club against Wimbledon on the opening day of the 1997/98 season
"I'd like to think here is a boy whose image every young fan can admire."
-- Steve Heighway, Liverpool youth development coach
Copyright © 1998 Mersey Reds