Transfer round-up
We have all the latest transfer updates and potential Reds. Of course, the players who have left.
It is unlikely that there will be any more massive signing. Dominic Matteo is the likely first choice left back next season, hence quashing any possible move for Ben Thatcher or Adilson. Steve Staunton is expected to cover for Dominic Matteo.
Sami Hyypiä - signed from Willem II (Holland). Finnish cup-winner in 1992, he was voted Promising Player 1991 and Best Player of the Under-21 National Team in 1994 and 1995. The 25-year-old central defender has signed a four-year contract with the club for around £3.25 million. Forsake the chance to play in Champions League next season with Willem to join the Reds. EU player.


Titi Camara - signed from Marseille for £2.6m. A Guinean national who holds French passport and therefore qualifies as a EU player, and therefore does not need a work permit. Touted as the "African Overmars".
Sander Westerveld - signed 5 yr deal for £4 million - British record fee for a goalkeeper. Recently earned his first international cap for Holland.

Eric Meijer - signed a pre-contract agreement, but remains a Bayer Leverkusen player until their season is completely over.
Free transfer under Bosman ruling.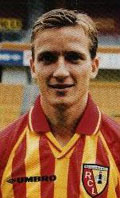 Vladimir Smicer - Deal is said to be finalised. Czech teammate of Berger, he forsake a chance to play in the Champions League for Lens next season to join the Reds. Believed to be the best midfielder in Europe by many. Will fill in Macca's role. Work permit should not be a problem as Smicer is a regular in the Czech national side. Worth £ 3 million.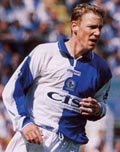 Stephane Henchoz - Deal finalised subject to medical which must be fixed period of time after an operation (he's had a hernia op. since the end of the season) . Fee £ 4 million targetted by Borussia Dortmund. Requires work permit. This Swiss centre-back is one of the few sparks in the relegated Blackburn Rovers' season.
Ben Thatcher - Left back at Wimbledon. Possible player-swap deal with Leonhardsen going back to his old club. £ 4m bracket, pricey for a defender who has yet to win an international cap. Chances of coming? almost nil.
Marc-Vivien Foe - £ 4m Cameroonian midfielder. Harry Redknapp is willing to release him for a right price. Unlikely to move to Anfield. Unless he is able to displace captain Paul Ince straight away, it is unlikely that the board will sanction a move for the player after having spent £16m in the transfer market this summer.
Adilson - Brazilian left-back valued at £1.5m who had a successful trial spell at Anfield in the spring. Dealings with his club Red Star Belgrade is hampered by the current Balkan crisis. A move to Anfield is not expected...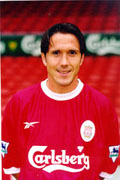 Oyvind Leonardsen - Houllier needs to sell to recoup the money he spent this summer. Tottenham's bid of £1.9m was rejected. Sheffield Wednesday is favourite to sign him for £3m - the price that Houllier is interested before initiating negotiations.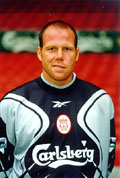 Brad Friedel - staying or going? we don't know! His Anfield future weighs on his work permit, which is almost certain to be revoked upon expiry. He is currently seeking a German passport (his granny's a German) to be eligible to play for the Reds without a work permit. Even so, he is very likely be number 2 to new signing Westerveld.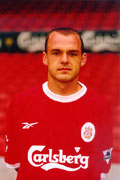 Danny Murphy - a dream-turned-nightmare move for the young promising midfielder. Chances are limited under the Houllier regime. Was loaned to Crewe and saved them from relegation. The club is listening to suitable offers for him. We do hope, however that he'd be given more chances to prove himself.
The 22 year old is now said to be a target of Bradford City, Manchester City, Fulham, Sheffield Wednesday, Ipswich, Norwich and probably a few others before he actually leaves Anfield in a £1.5m move.
Stig Inge Bjornebye - expected to move back to his native Norway. With Staunton and Stephen Wright expected to cover for Matteo at the left-back spot, his erratic Anfield career seems almost finished.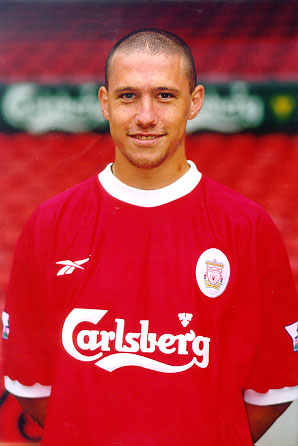 Sean Dundee - This childhood Everton fan has played less than 30 minutes. The board wants at least 2m for this former Bundesliga top scorer.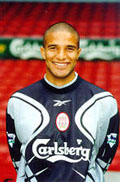 David James - The 28-year-old goalkeeper moved to Aston Villa in a £1.8million deal ending a seven year association with Liverpool FC