History of the club
Liverpool Football Club would not have been born if not for their neighbouring rivals, Evertion FC. To truly understand the Reds' beginning, we must take a look at Everton's early history
Everton was formed in 1878 due to the growing popularity of football in Liverpool. John Houlding, an influential businessman and future mayor of Liverpool, was to play a big part in both clubs' history. Everton FC began playing at Anfield Road, a field rented by Houlding from a local brewer, John Orrell.
As Everton strived over the years, Houlding poured in more money to build stands at Anfield. However a local dispute would cause a rift in Everton FC. The club split into 2 factions with one deciding to raise money to build the present Goodison Park and moved over. Faced with a prospect of owning an empty football ground, Houlding decided to adopt the city's name as the name of his new club in May 1892. He did it with the support of the Anfield loyalists who stuck with him after the rift.
The city was shocked by Houlding's move. For no one could forsee the city supporting two clubs. Where would the talents come from? Houlding turned to his good friend, John McKenna for help. John McKenna, an Irishman had a keen interest in football. He was to become LFC first ever manager. Entrusted with a heavy responsibility of finding talents for the new club, he ventured north to Scotland.
On 1 September 1892, Liverpool FC played its first ever game - a friendly against Rotherham Town at Anfield. They demolished their poor opponents by seven goals to one. Malcolm McVean had the distinction of scoring LFC's first ever goal. With McKenna's search for talents in Scotland, it was hardly surprising that the team consisted of entirely Scotsmen.
2 days later, they played their second home game and first game in the Lancashire League. The team would go on and ripped their opponents apart 8-0. They rounded off the season with 17 wins, 2 draws, 3 loses, scoring 66 goals and conceding only 19 goals. With this record, McKenna confidently applied for admission to the League.
Following season, after the successful application to the League, Liverpool would go on where they had left off, beating Middlesborough Ironopolis away on 2 September 1893 , their first league match. Once again, McVean had the honour to score the club's first ever League goal. Liverpool FC would end up top again. Finishing with 22 wins, 6 draws, no losses, scoring a massive 77 goals and conceding only 18. They would have to meet Newton Heath, later to become Manchester United for a match to decide on promotion to Division 1. The first of many fiercely contested matches between these two giant clubs would be won by Liverpool. 2-0 the match ended. Despite of the success, Liverpool would be second rung to Everton for a few years. Not many fancy watching a local team full of Scotsmen.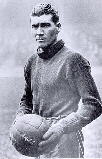 Left- Liverpool's Elisha Scotts, one of the finest goalkeepers in his era. He was capped 31 times by Ireland and played over 450 games for the club.
Liverpool's first stint in the First Division was not to be a bed of roses for them. Starting with 4 loses and 4 draws in the first 8 games before meeting their city rivals, Everton. The first merseyside League derby was watched by some 44000 specatators in Goodison Park on 13 October. The city's more favoured team then would stamp its superiorty on their opponent. Everton emerged victorious 3-0. In the return match on 17 December at Anfield, both teams drew 2-2. Liverpool was subsequently relegated back to Division 2 right after winning promotion after finishing last in Division 1. McKenna swore that Liverpool would be back in top division within 12 months. That was maybe an first indication of the determination and fighting spirit of the club. True enough, they won the Division 2 title the very next season. In their first season back in top division, they finished a credible 5th, the first of many times they would fare better than Everton.
Liverpool's first of their 18 championships came in the 1900/01 season, with Alex Raisbeck been the key player of the team. Alex Raisbeck, a Scottish international was perhaps the first Liverpool star. John Houlding however would not see another League success again as he died in 1902. When his funeral cortege passed through the streets of Anfield and Everton, the flags of Goodison and Anfield were flown at half-mast. In recognition for his contributions to both clubs and respect for him , his pall-bearers came from Everton and Liverpool.
Once again in 1903/04 season, Liverpool was relegated but bounced back just one season in Division 2 yet again. Liverpool's next success would come almost immediately after winning promotion in 1905/06 season. As a reward, the directors took the players to a short trip to France and build the Spion Kop for the fans.
The Spion Kop was named after Spion Kop, a hill in Natal where a Merseyside regiment suffered heavy losses on 24 January 1900 in a bloody battle in the Boer War. Three hundred died in a vain attempt to lift the siege of Ladysmith, many of them Liverpool lads. Ernest Edwards, sports editor of the Liverpool Post and Echo, hit on the idea of naming the cinder banking after the hilltop. The name Spion Kop is Afrikaans for "vantage point". In 1928 it was extended and roofed so that 30,000 could watch from its terraces. It was said to be the height of the roof which magnified the sound and acted as a natural amplifier. The Spion Kop is also said to worth a goal start to the Reds.
Over the years they would procede to win 2 more titles after the first World War. Producing good players like Elisha Scott, Don MacKinlay. In 1915, the club would be involved with an ugly scandal together with Manchester United. With Liverpool safely mid-table and United fighting against relegation, few players from each club match-fixed the result. United won the dour match 2-0. After a series of investigations, 4 players from each club were banned from taking part in football or football management, and visiting any football ground for life. These sentences would however be lifted after the war.
During both wars, the normal league was suspended. Football was still played as a moral boaster for the public. Liverpool would still continued to fascinate and delight their fans.
How it all began Pre Shankly days The Resurrection
Bob Paisley's Era Fagan and Daglish A whole new Era