"If you're in the penalty area and
don't know what to do with the ball,
put it in the net and we'll discuss the options later."
~~ Bob Paisley
---
Uncle Bob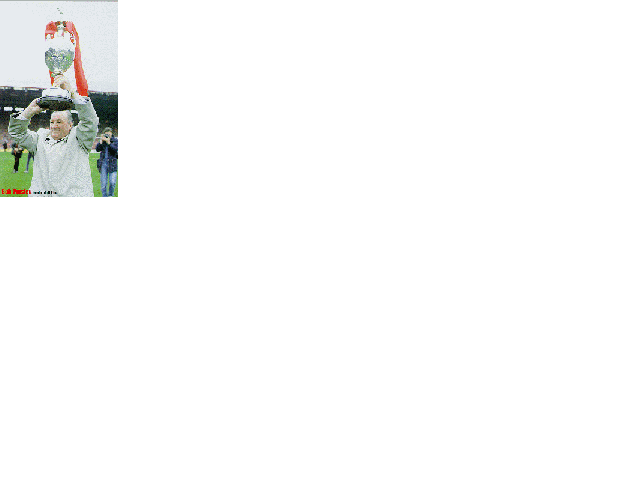 Left - Paisley lifts the Championship trophy in 1983, his last season in charge.
There was never a doubt Paisley would take over Shankly despite media's speculation of Brian Clough taking over. Bob Paisley was Shankly's right-hand man and quite naturally he was Shankly's personal recommendation.
Paisley's first season was a disaster by his standard. The club finished second in the league behind Derby and crashed out early in the League Cup, FA Cup and the European Cup-Winners' Cup. He was quick to start purchasing players. His first buy was Phil Neal, £60000 transfer from Northampton Town. Neal would go on to form a formidable back line with Tommy Smith. Next came Terry McDermott who took a little longer to established himself in the team. Ray Kennedy, an Arsenal signing by Shankly was a natural goalscorer with Arsenal. However he struggled to play up-front and drifted to the reserves before Paisley switched him to midfield. This was later proved to be one of the best moves Paisley had made over his reign. Kennedy had a whole new lease of life playing in his new midfield role.
After his not-to-successful maiden season as manager, he was determined to win something. Local lads David Fairclough and Jimmy Case were promoted to the first team. Fairclough would go on to pick up his "super-sub" nickname from the adoring Kop. There was a reason for that. Fairclough would in many occasions come on in the number 12 shirt and score many important goals. In the 1975/76 season, Paisley's second season in charge, the club would achieve the League Championship and UEFA Cup double for the second time.
In 1976/77 season, the Reds sign on a striker, David Johnson from Ipswich, a move which surprised many due to the number of strikers in the squad then. However unknown to most, Keegan had approached Paisley to grant a chance to play abroad. A deal was struck to allow Keegan to move abroad if the club win the European Cup. Keegan was able to help the Reds to achieve that for Paisley. In addition, the Reds retained the league championship. The club had won the European Cup against Borussia Moenchengladbach only after a disappointing 2-1 loss to Manchester United in the FA Cup final.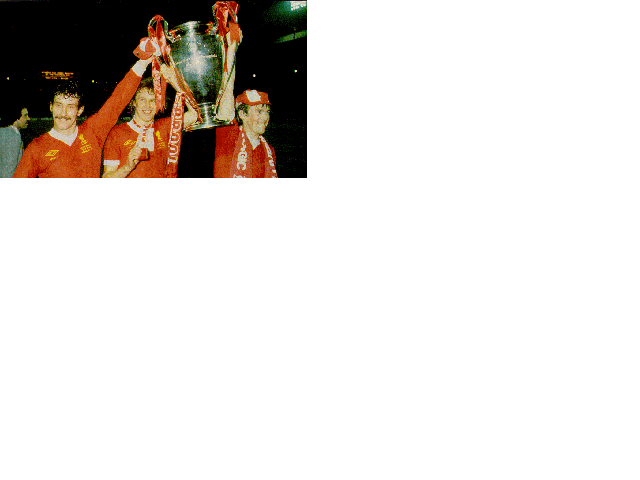 Keegan went on to Hamburg for a fee of £500000. His move estranged many Anfield faithfuls who viewed the move a betrayal by Keegan. However Paisley had long found Keegan's successor. Kenny Daglish joined Liverpool for a record fee of £440000. Long before signing for the Reds, Daglish was already a prolific striker with wearing the famed green and white hooped shirt of Glasgow Celtic. Not long after Daglish's transfer, Alan Hansen and Graeme Souness signed for the Reds. These 3 Scotsmen were to become a vital part in the Paisley's winning squads over the years. It was no surprise that these 3 Scotsmen would be in the line-up of the European Cup final team in 1978. The Reds became the first British team to retain the European Cup after beating FC Bruges 1-0.
After the win of European Cup, the club won 2 consecutive championships in 1979 and 1980. Ian Rush was signed from Chester. He did not score in his first 9 appearances for the Reds. Paisley later told him,"You're supposed to be a striker, be more selfish". It seemed like magical words, Rush scored almost at ease since then, becoming an Anfield legend eventually.
1981 was a successful season. Liverpool had never won the League Cup before. This year the club would break the duck beating West Ham in the final replay. The Reds would win this cup for 4 consecutive years in 1981,82,83 and 84 and once in 1995 making it a record winner of this competition. Against a passive Real Madrid side, the side which consisted of the Ray Clemence, Daglish, Hansen, Souness and Sammy Lee hang on to a one goal cushion to win its third European Cup in 1981.
Left - Ian Rush, Red's all time top scorer.
In the 1981-82 season, Daglish together with new boy Rush helped Liverpool to their 13th league title and the League Cup. Paisley announced that the 1982-83 season would be his last in-charge. With the aid of Daglish and gang which now boast of Bruce Grobbelaar and Craig Johnston, Paisley's last season would be a memorable one. Retaining the league title again, the club would go on to win a historic 3 League Cup in succession. During the League Cup presentation, Souness, the captain spontaneously stepped aside and urged Paisley up the famous Wembley steps to receive the cup. He became the first manager to receive the Cup before the team. It was probably the finest accolade a manager can ever receive. Quite frankly, Paisley deserved it more than anyone else.
After the trophyless first season, Paisley, in his next 8 seasons at the helm would help the club win 6 league championships, 3 League Cups, 3 European Cups, 1 UEFA Cup, 1 European Super Cup and the Charity Shield 5 times. In 5 of those seasons, he would have won two major trophies, and each if the other 3 one trophy. It is still a feat unparalleled in history of English football. During his reign, he was voted Manager of the Year 6 times. He can also be attributed for bringing in many talents like Rush, Daglish, Whelan, Souness who would go on to become legends in Anfield folklore.
How it all began Pre Shankly days The Resurrection
Bob Paisley's Era Fagan and Daglish A whole new Era