Our recent slump.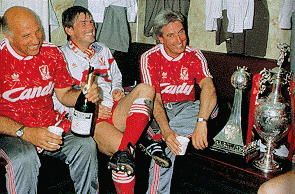 Left- During the happier days, Ronnie Moran, Kenny Daglish and Roy Evans.
Sad to say, the club would hit a rough patch after King Kenny left. Souness took over from care-taker manager Ronnie Moran in April 1991. Souness was hot favourite with the board because of his track record as a manager. Souness was very successful in his then club Glasgow Rangers. He brought changes to the club and upset the establishment.
Souness was quick to plunge into the transfer market to attempt to lift the club which had slipped a bit since Daglish left. He brought a whole array of expensive signings like Dean Saunders, Mark Wright, Nigel Clough just to name a few. Dean Saunders never settled in the side and was promptly sold off to Aston Villa. .
Souness's side was plagued with injuries. His new style seem to encourage rough play by Liverpool players. Liverpool players were also sent off to add to his injuries woes. Never before in Liverpool's history had it faced such disciplinary problems by players. The Reds had always been known for gentlemenly play
Roy Evans was also another man with long service to the club. He finished 8th in his first season after taking over Souness. In his first full season, his side lifted the League Cup in Wembley. He rebuilds his side gradually through the Red's youth team. McManaman and Fowler was slowly brought to the limelight. Jamie Redknapp and Rob Jones bought by Souness blossomed under Evans and went on to represent England. Liverpool finished 4th in Evan's first full season.
In 1995 Liverpool smashed British transfer record by signing Stan Collymore from Nottingham Forest for £ 8.5 million. Four straight home wins brought some excitement to Merseyside for the first time in few years. However bad away form spoiled Liverpool's title hope. The Reds did reach the FA Cup final though. However luck was not on their side on that Cup Final afternoon, Cantona scored in the last 10 minutes to win the Cup for Manchester United.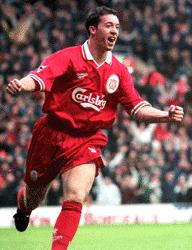 Robbie Fowler, one part of the twin striking Anfield terrors
Patrik Berger was bought to Anfield in the 1996/97 season after his fantastic display in Euro 96. Liverpool led the tables after Christmas. Fowler now a vital member of Evan's team scored his 100th goal in just 165 games. But just when the championship comes to the crucial stage, the Reds stumbled again. They failed to overcome Paris Saint-Germain in the Cup-Winners' Cup semifinal despite a gutsy 2-0 win at Anfield. Liverpool's title hopes virtually vanished after losing 3-1 to Manchester United at Anfield. Manchester United won it again. The club finished 4th after a real disappointing run towards the end of the season.
Despite big time signings like Paul Ince, Oyvind Leonhardsen, Karl Heinz Riedle in the 1997/98 season, the club fail to sparkle. The defence proved to be the problem of the team, conceding suspect goals in crucial game. Liverpool finished third behind Arsenal and Manchester United after much preseason hype and crashed out early in the UEFA Cup compeition. Perhaps the only spark of the season is the emergence of Michael Owen, who not only excited the Anfield crowd but taking the world by storm in the 1998 World Cup.
The 1998/99 season began with Liverpool bringing in Frenchman Gerard Houllier as joint manager, a move which brings in scepticism. The purchase of striker Sean Dundee, Norwegian Heggem and the second coming of Steve Staunton brings much anticipation of a serious assault on the title again. However the managerial partnership did not produce the result all Liverpool faithfuls had hoped for. Evans bowed out as manager eventually, ending a 35 year association with the club.
Although recent results have not been encouraging, the team is not far off from a side with potential of winning the title. Maybe not in 1998/99. We believe, Houllier with all his experience, will bring Liverpool back to its glorious days. Afterall, if Manchester United (ManUre) can wait 26 years for their first title in 1993, what's 8 years ? Shankly also once had a drought of 7 years. Keep the faith fans. You'll Never Walk Alone.
How it all began Pre Shankly days The Resurrection
Bob Paisley's Era Fagan and Daglish A whole new Era